With a peaceful setting in Palm Beach County, well-appointed amenities and comfortable living spaces, The Recovery Village Palm Beach at Baptist Health provides everything you need to start a life of recovery.
Our Inpatient Detox and Rehab Center Location
Address:
The Recovery Village Palm Beach at Baptist Health
4905 Lantana Rd
Lake Worth, FL 33463
561-340-7269
Our Inpatient Facility
For many people, recovery starts with intensive inpatient care, whether it's through detox or residential treatment, or both. Our full-service facility offers medical and clinical treatment in a restorative setting where clients stay onsite during rehab.
Our low client-to-staff ratio ensures that each person receives personalized inpatient care, with:
During each client's stay with us, they'll have the support necessary to begin recovery, with:
Nutritious meals
Well-appointed rooms
Comfortable lounges and relaxing spaces
Indoor and outdoor amenities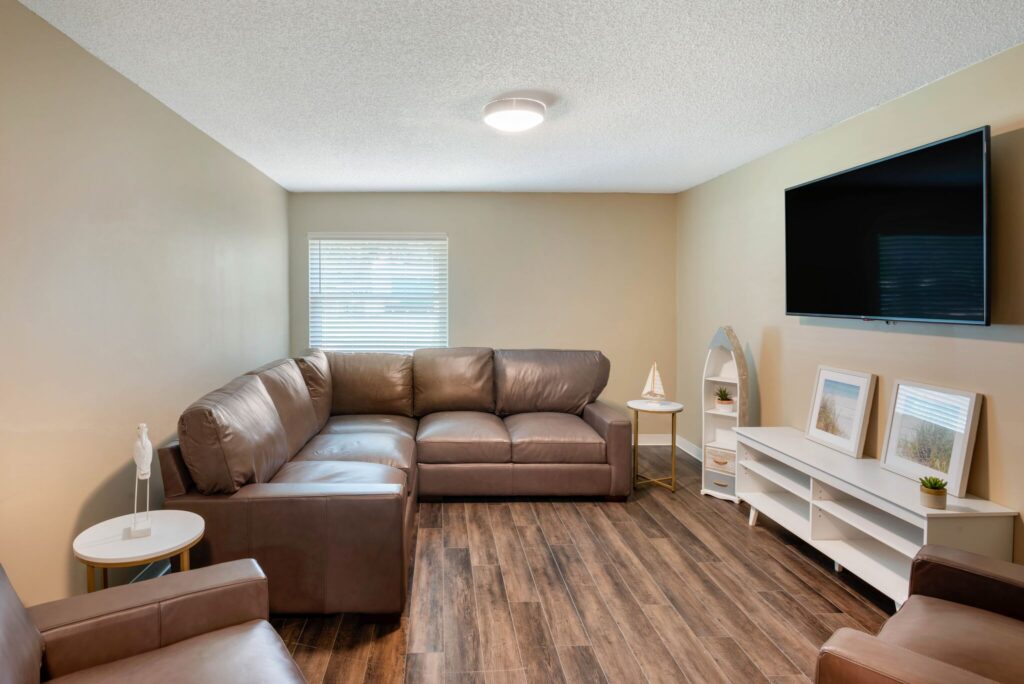 Bilingual Staff
Our staff reflects the diverse culture of the greater South Florida community. To meet the needs of various demographics, some of our intake coordinators and staff members are bilingual. Our bilingual staff ensures that people of all backgrounds can access appropriate levels of care.
Our Amenities
Complementing treatment and counseling, amenities at The Recovery Village Palm Beach at Baptist Health offer opportunities for recreation, relaxation and fitness. Our indoor and outdoor amenities encourage mental, physical and emotional healing.
Outdoor Amenities
Achieve a healthy body and mind through recreational activities and amenities like:
Basketball courts
Frisbee golf
Horseshoe pits
Sand volleyball
A swimming pool (coming soon)
Indoor Amenities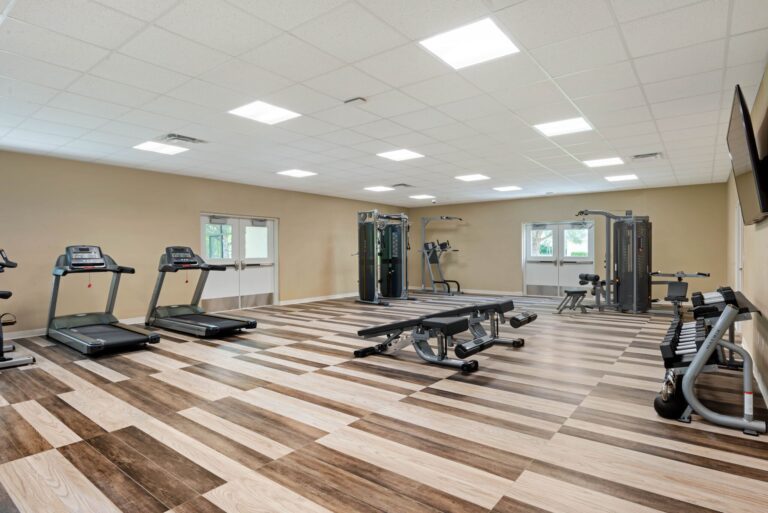 Lounge in comfort or exercise indoors with:
Multiple lounges with televisions
Two fully equipped gyms
Electronic games
Room Amenities
Because treatment can be physically and mentally challenging, we want each client to feel as comfortable as possible during their stay. Our rooms are designed with client needs in mind and support each person's recovery.
Each room is well-appointed with comfortable furnishings that encourage rest and rejuvenation in quiet comfort. Our hotel-style rooms have semi-private rooms, along with a shared bathroom, ample closet space and windows that let in refreshing natural light.
If you struggle with drug or alcohol addiction, don't wait to get help. At our facility, you can receive personalized treatment in a safe and supportive environment. To take the first step toward recovery, call us today. Our caring representatives can answer your questions and help you pick a rehab program that suits your needs. Your call is free and confidential, and you don't have to commit to a program to learn more about treatment.
Brandon W.
19:22 11 Mar 20
Jessica was very awesome always helped the patients when she could and is very professional Rob is great sherri and Cynthia are amazing the groups are good very interactive and informational all the therapists are amazing Trina is alazing. Alicia the case mananger is off the chain works ridiculous hours and is always there for us and helps in so many ways. The food is really good just a great place to go all around 👍
The recovery village of palm beach was instrumental in my recovery process!!! Jessica the tech and Jeannie the nurse were amazing and extremely helpful I cannot day enough good things about them!!!
Lamonte S.
00:14 05 Mar 20
Staff was super even though they are overworked. Susan my theripest was great to get me to see how I was dealing with my anxiety and depression. Made me see where I was and where I was heading. With the help that she has given me I have a plan to get me on track to become a happier person and to realize my self worth. Chef fixed great meals every day. I enjoyed my stay here at the Recovery Village.
I had the pleasure of going to the Recovery Village for therapy and treatment to some personal issues I was struggling with. They were amazing and gave me my life back. From the minute I walked in the door Jessica welcomed me with open arms and made the entire process extremely comfortable. Nathalie is an angel and made sure I had everything I needed each day to be successful. Tony and David run a upscale program that caters to the clients experience. Thanks so much for helping me overcome the issues I was dealing with and providing me with the tools to have a fighting chance.
Beverly S. R.
21:10 21 Jan 20
The Recovery Village was good. The facility was exceptionally clean and the groups were informative. I believe one has to be focused and committed to receive the information being administered in order to reap the benefits. I found the staff to be very helpful. My only complaint is that I was not informed of this place being out-of-network vs. in-network as it relates to my insurance until I arrived at the facility. This information would have been helpful in the very beginning so that I could have made a wiser decision financially.
The Recovery Village was a great place for my Detox and to start my way onto my recovery and Sobriety. The facility is brand new all refurnished, and the rooms are very nice 2-beds to a room, showers are great, they have a rain fall effort, and or regular shower head as well. They have very nice lounges to relax, watch T.V., read, ETC. Lots of outdoor activity including a new Pool. The staff is very kind. The Counselors are wonderful. I especially favor Kiema, The therapists who teach the classes are very informative. I learned a lot from them and took a lot of great learning tools with me. The food was overall good. The cheifs were great. The Techs were nice. The nurses were great. There are different class times and meal times and you are expected to go. Classes go from 9 AM to usually 430 pm with breaks in between than AA Meetings are brought to the facility around 7pm. But there is also time for relaxing esp. on Sunday's. Good luck to you and hope you really consider The Recovery Village.