Esta publicación está disponible en español.
With a peaceful setting in Palm Beach County, well-appointed amenities and comfortable living spaces, The Recovery Village Palm Beach at Baptist Health Drug and Alcohol Rehab provides everything you need to start a life of recovery.
Our Palm Beach Inpatient Detox and Rehab Center Location
Address:
The Recovery Village Palm Beach at Baptist Health Drug and Alcohol Rehab
4905 Lantana Rd
Lake Worth, FL 33463
561-340-7269
Our Inpatient Facility
For many people, recovery starts with intensive inpatient care, whether it's through detox or residential treatment, or both. Our full-service facility offers medical and clinical treatment in a restorative setting where clients stay onsite during rehab.
Our low client-to-staff ratio ensures that each person receives personalized inpatient care, with:
During each client's stay with us, they'll have the support necessary to begin recovery, with:
Nutritious meals
Well-appointed rooms
Comfortable lounges and relaxing spaces
Indoor and outdoor amenities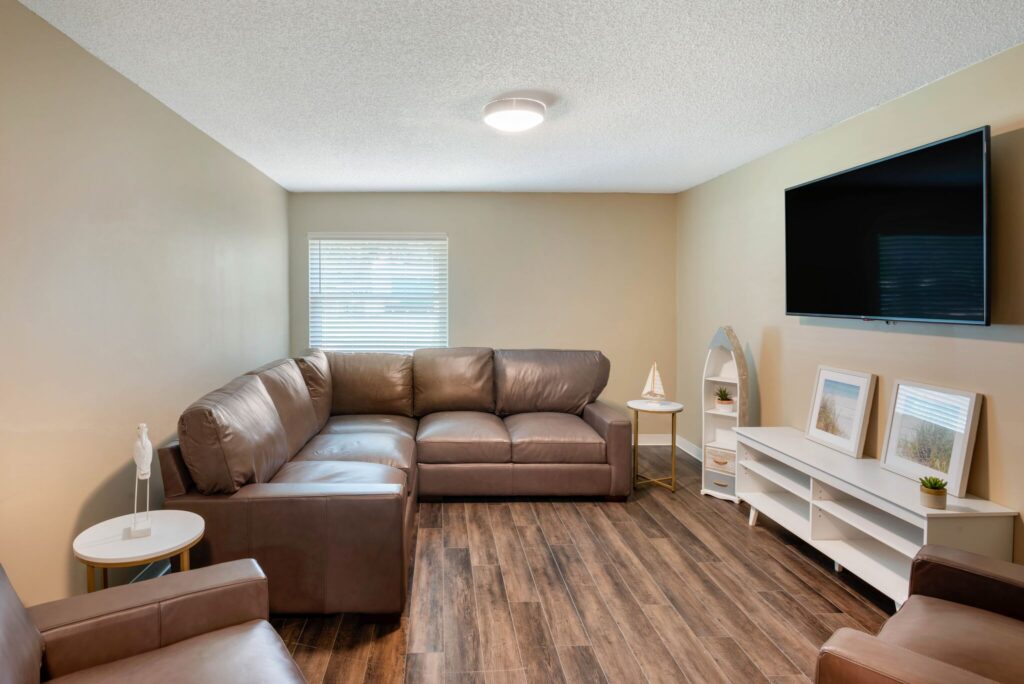 Bilingual Staff
Our staff reflects the diverse culture of the greater South Florida community. To meet the needs of various demographics, some of our intake coordinators and staff members are bilingual. Our bilingual staff ensures that people of all backgrounds can access appropriate levels of care.
Our Amenities
Complementing treatment and counseling, amenities at The Recovery Village Palm Beach at Baptist Health Drug and Alcohol Rehab offer opportunities for recreation, relaxation and fitness. Our indoor and outdoor amenities encourage mental, physical and emotional healing.
Outdoor Amenities
Achieve a healthy body and mind through recreational activities and amenities like:
Basketball courts
Frisbee golf
Horseshoe pits
Sand volleyball
A swimming pool (coming soon)
Indoor Amenities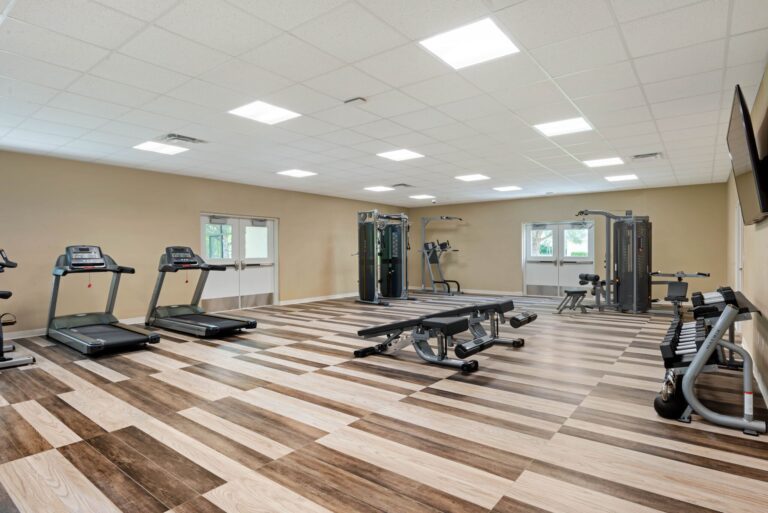 Lounge in comfort or exercise indoors with:
Multiple lounges with televisions
Two fully equipped gyms
Electronic games
Room Amenities
Because treatment can be physically and mentally challenging, we want each client to feel as comfortable as possible during their stay. Our rooms are designed with client needs in mind and support each person's recovery.
Each room is well-appointed with comfortable furnishings that encourage rest and rejuvenation in quiet comfort. Our hotel-style rooms have semi-private rooms, along with a shared bathroom, ample closet space and windows that let in refreshing natural light.
If you struggle with drug or alcohol addiction, don't wait to get help. At our facility, you can receive personalized treatment in a safe and supportive environment. To take the first step toward recovery, call us today. Our caring representatives can answer your questions and help you pick a rehab program that suits your needs. Your call is free and confidential, and you don't have to commit to a program to learn more about treatment.
Had to go through this program twice to learn. My most recent was in Feb of this year. Jess will do whatever she can to help you out, and make you feel situated. Everyone on staff is really supportive, and they all want you to succeed. Alicia is a great case manager, and Kiema is my favorite therapist of all time! Only complaint I have is that they were understaffed and most of the time it was hard to get a BHT's attention or do something for you when you needed something... I am now 213 days sober, this program definitely helped me start my recovery the right way!
Kept me away from booze for over 30 days. Got a bed and free meals. Therapist REALLY helped me out.
The recovery Village took care of me when I thought i didnt have my life under control. I give big props to Jimmy the tech. Thank you for your service.
Jessica C.
17:05 01 Sep 20
I had the best experience defenaly therapy is great staff members are awesome jimmy, wayne,shay,alicia, everyone i would recommend recovery village for anybody who needs help thank you recovery village 😘😘🙌
Beautiful community setting, excellent staff.
great staff great case manger!!!! awesome people that care