This publication is available in: English
Situado en un entorno tranquilo en el condado de Palm Beach, con instalaciones bien equipadas y espacios de vida amenos, The Recovery Village Palm Beach en Baptist Health ofrece todo lo necesario para iniciar una vida de recuperación.
Nuestro centro residencial y ubicación
Dirección:
The Recovery Village Palm Beach at Baptist Health
4905 Lantana Rd
Lake Worth, FL 33463
561-340-7269
Nuestro centro residencial
Para muchas personas la recuperación empieza con un cuidado intensivo, ya sea a través de la desintoxicación o el tratamiento residencial, o ambos. Nuestras instalaciones ofrecen tratamientos médicos y de salud mental en un ambiente restaurador.
Nos enfocamos en que cada persona reciba una atención personalizada y en ofrecer:
Durante su estancia, cada cliente tendrá el apoyo necesario para comenzar la recuperación, con:
Comidas nutritivas

Habitaciones bien decoradas

Cómodos salones y espacios de relajación

Servicios bajo techo y al aire libre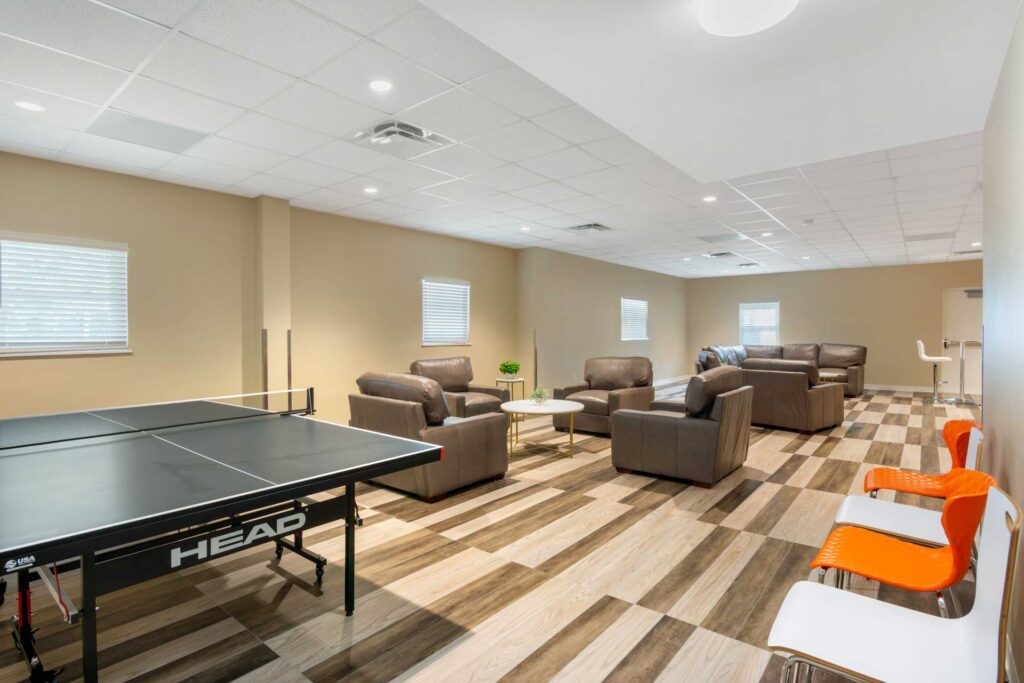 Personal bilingüe
Nuestro personal refleja la diversidad cultural de la gran comunidad del sur de la Florida. Para satisfacer las necesidades de distintos grupos demográficos, algunos de nuestros coordinadores de admisión y miembros del personal son bilingües. Nuestro personal bilingüe se asegura de que las personas de todos los orígenes puedan acceder a los niveles adecuados de atención.
Nuestras instalaciones
Las instalaciones de The Recovery Village Palm Beach en Baptist Health complementan la experiencia del tratamiento y la terapia y ofrecen oportunidades de esparcimiento, relajación y ejercicio físico. Nuestras instalaciones al aire libre y bajo techo fomentan la sanación mental, física y emocional.
Instalaciones al aire libre
Logra un cuerpo y una mente sanos a través de las actividades de esparcimiento e instalaciones como:
Canchas de baloncesto
Frisbee golf
Canchas para jugar herraduras
Voleibol de arena
Piscina (próximamente)
Instalaciones bajo techo
Relájate o haz ejercicios en un espacio techado con:
Múltiples poltronas y televisores
Dos gimnasios completamente equipados
Juegos electrónicos
Habitaciones
Ya que la rehabilitación puede ser un desafío físico y mental, queremos que cada cliente se sienta lo más cómodo posible durante su estancia. Nuestras habitaciones están diseñadas teniendo en cuenta las necesidades del cliente y apoyan la recuperación de cada persona.
Cada habitación está bien equipada con muebles cómodos que fomentan el descanso y el rejuvenecimiento en un ambiente tranquilo. Nuestros cuartos de estilo resort son habitaciones semi-privadas, junto con un baño compartido, un amplio espacio de armario y ventanas que dejan entrar la refrescante luz natural.
Si tienes problemas con la adicción a las drogas o al alcohol, no esperes más para buscar ayuda. En nuestras instalaciones, puedes obtener un tratamiento personalizado en un ambiente seguro y positivo. Para dar el primer paso hacia la recuperación, llámanos hoy. Nuestros representantes pueden responder a tus preguntas y ayudarte a elegir un programa de rehabilitación que se adapte a tus necesidades. La llamada es gratuita y confidencial, y no tienes que comprometerte con un programa para aprender más sobre el tratamiento.
Had to go through this program twice to learn. My most recent was in Feb of this year. Jess will do whatever she can to help you out, and make you feel situated. Everyone on staff is really supportive, and they all want you to succeed. Alicia is a great case manager, and Kiema is my favorite therapist of all time! Only complaint I have is that they were understaffed and most of the time it was hard to get a BHT's attention or do something for you when you needed something... I am now 213 days sober, this program definitely helped me start my recovery the right way!
Kept me away from booze for over 30 days. Got a bed and free meals. Therapist REALLY helped me out.
The recovery Village took care of me when I thought i didnt have my life under control. I give big props to Jimmy the tech. Thank you for your service.
Jessica C.
17:05 01 Sep 20
I had the best experience defenaly therapy is great staff members are awesome jimmy, wayne,shay,alicia, everyone i would recommend recovery village for anybody who needs help thank you recovery village 😘😘🙌
Beautiful community setting, excellent staff.
great staff great case manger!!!! awesome people that care